Full-size pickup trucks are some of the most versatile machines on the planet. Today's rigs can tackle big and small jobs alike with enough poise and refinement to serve as comfortable daily drivers, too. There's a reason these trucks are the best-selling class of vehicles in the country.
Okay, so here's the bad news: truck prices are notoriously high. But while that doesn't mean you can't find a solid truck under $15,000, the choices are limited to a slightly older class of trucks. Still, there are plenty of great ones in the used market ready. Here are the best ones we found under our price cap.
1. 2008 Toyota Tundra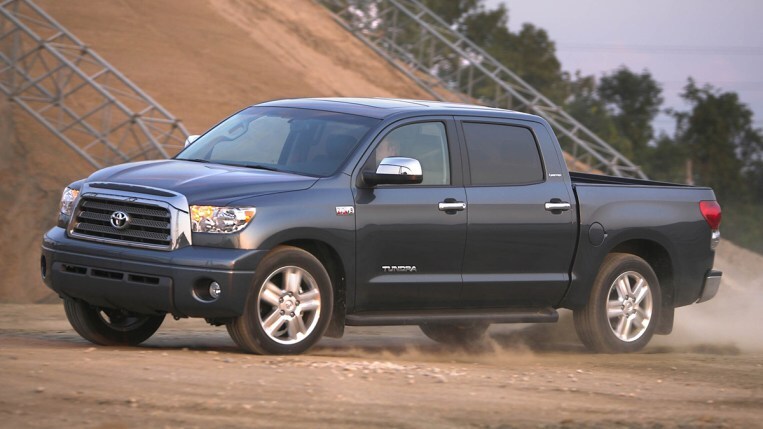 Toyota upped its game when it introduced the new 2007 Tundra. Here was the first Toyota that could stand tire-to-tire with the domestic full-size trucks in size and capability. The 381-horsepower 5.7-liter V8 is incredibly strong, and so are the drivetrain components. The rear axle is nearly heavy-duty pickup strength. As such, the super-sized Toyota can tow serious loads of up to 10,000 pounds. If you want enough room to carry more than three people, you'll have to look for a 2007 Double Cab to stay in this price range. See Toyota Tundra models for sale near you.
2. 2008 GMC Sierra 1500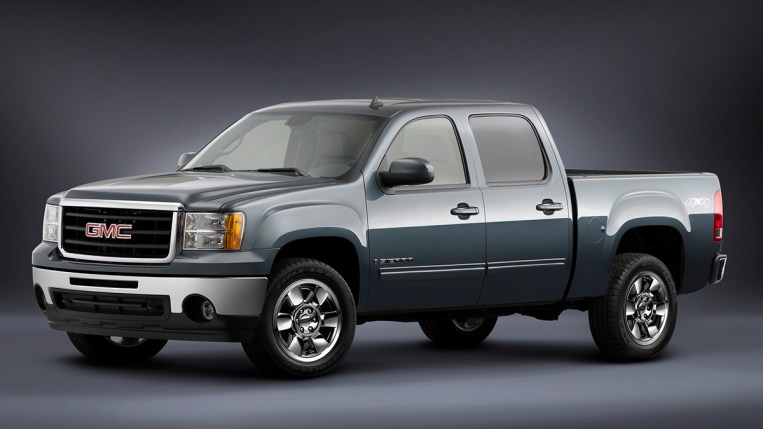 The GMC Sierra 1500 rides on a chassis that offers one of the best blends of ride, handling, and capability. In this generation of GM trucks, which hit just one year earlier, the company delivered unique styling for GMC models compared to Chevy. The squared-off look of these GMCs is very handsome today. Our pick would be an all-wheel-drive (AWD) model using the reliable and strong 315-horsepower, 5.3-liter V8. This powertrain was one of the best on any truck at the time. For those looking for luxe at a higher price, shop a Denali and enjoy comfort like heated and cooled seats, as well as a strong 6.2-liter V8 with 403 horsepower. See GMC Sierra 1500 models for sale near you.
3. 2007 Chevy Silverado 2500HD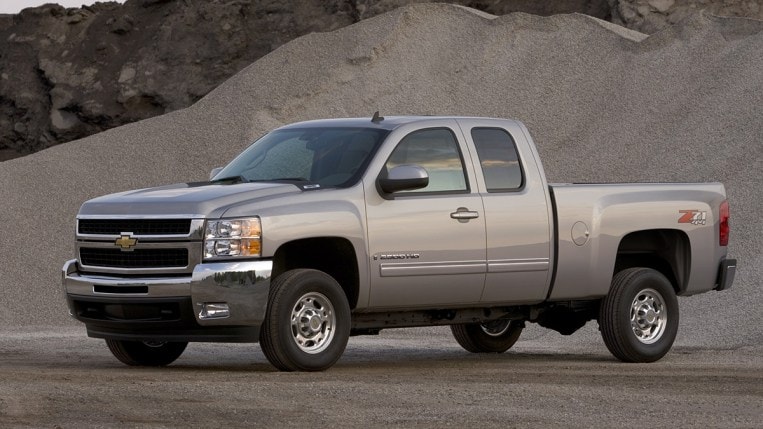 If you're looking for a pickup with heavy-duty capability but light-duty drivability, the Chevy 2500HD comes closest. The truck's independent front suspension offers better handling than other 4x4s and the whole truck feels a bit more agile than the competition. At this price point, the 6.0-liter gas V8 is the only engine in the cards — diesels with 660 lb-ft of torque are more expensive. And expect to pay more for trucks loaded with luxury options. Still, for a workhorse that's easy to drive daily, the Silverado 2500 is a great buy. See Chevrolet Silverado 2500 models for sale near you.
4. 2007 Ford F-250 Super Duty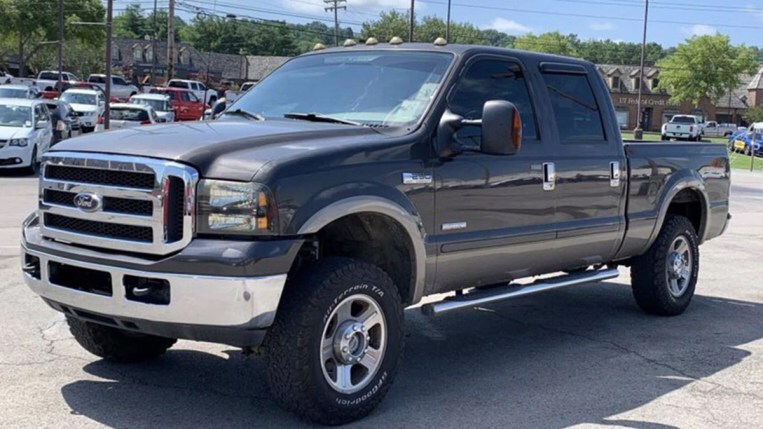 When it comes to workhorse trucks, the Ford Super Duty is the gold standard. Ford sells the most and these beasts are made of hearty stock. This generation of F-250 was brand new back in 1999, so its strong chassis is proven. The 6.0-liter diesels of this time period have a reputation of being somewhat problematic, so we might opt for a gas V8 truck (and save some money) or try to find a V10. In either case, with the right equipment, an F-250 can tow 12,500 pounds. See Ford F-250 models for sale near you.
5. 2009 Ford F-150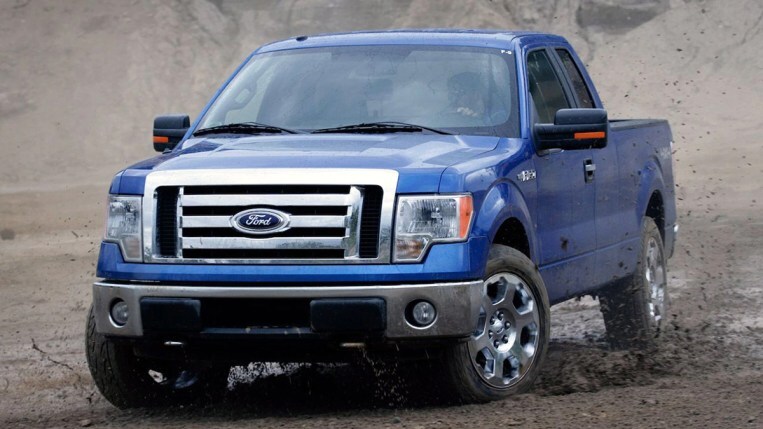 For 2009, the F-150 received some major upgrades. The stronger and stiffer fully-boxed frame is lighter than the old one and there's a tougher look to match, inspired by Ford's beefier F-250 and F-350 lines. Every F-150 of this generation is V8-powered — and that's no bad thing. Our pick would be a SuperCrew model, as Ford extended the cab by nearly half a foot over the older models. And we'd probably look for an FX4 off-road package. This is also the first year for Ford's tailgate step in the F-150, so check for that convenient option. See Ford F-150 models for sale near you.
6. 2009 Chevrolet Silverado 1500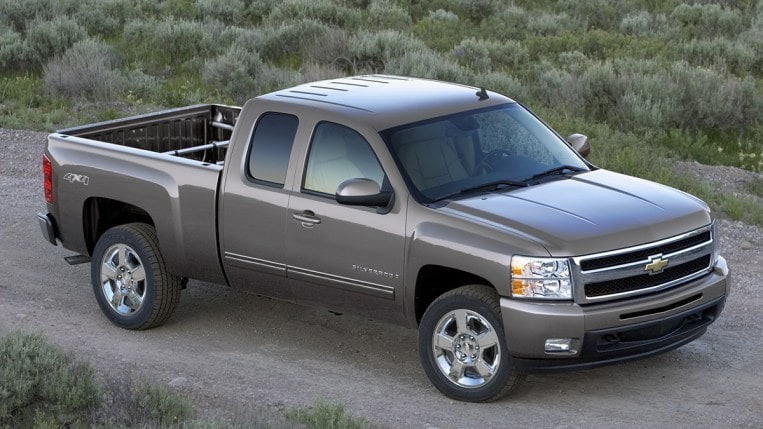 The Chevy Silverado has long been considered one of the most refined and easy-to-drive-daily full-size pickups. Buyers really appreciate the truck's handling, as well as the powerful line of V8s available. This was the first year for the 6.2-liter V8 in the Silverado — an excellent motor with a stout 403 horsepower. Chase down a model with the right options and a Silverado 1500 can manage a trailer weighing nearly 11,000 pounds. That's impressive. See Chevrolet Silverado 1500 models for sale near you.
7. 2010 Dodge Ram 1500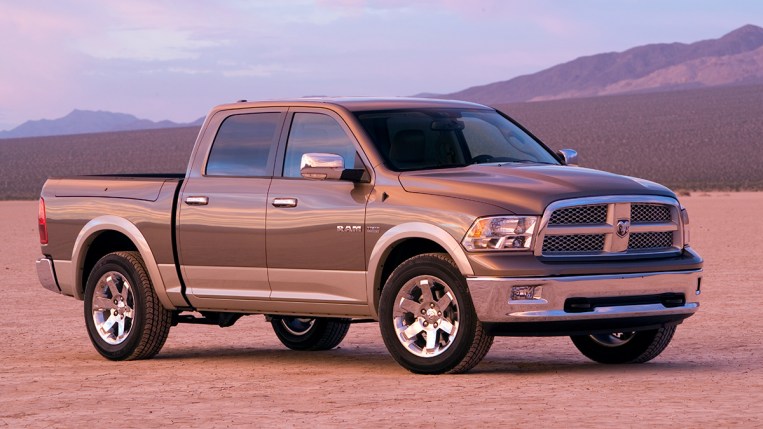 The Ram 1500 was all-new just one year before with an aggressive muscle truck style that still holds up great today. The biggest innovation, however, was the adoption of a coil-spring rear suspension for one of the smoothest rides around. Hunt down a truck with the 5.7-liter Hemi V8 and you'll have 390 horsepower to work with and a towing capacity that maxes out at nearly 10,500 pounds. So this easy-driving Ram can tackle plenty of real work, too. See Dodge Ram 1500 models for sale near you.
8. 2005 Dodge Ram 2500 Heavy Duty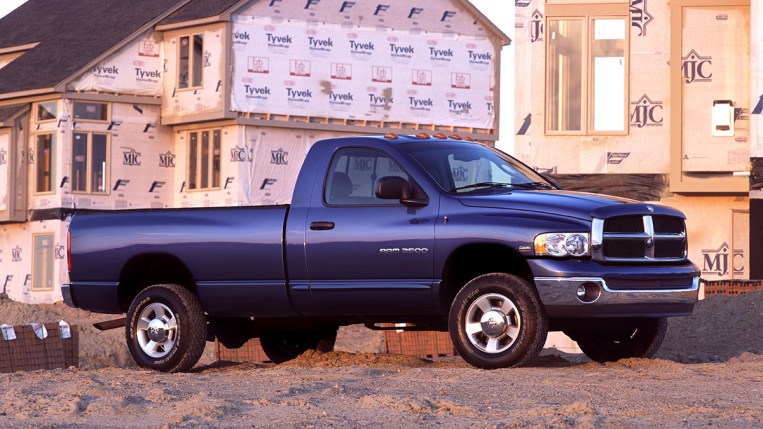 The highly capable Power Wagon debuted in 2005 and rocked the 4WD world. Buyers looking for a pickup to handle a more typical work schedule will find the normal 2500 4×4 an excellent choice. This is a tough pickup that can tow upwards of 13,000 pounds depending upon options. When equipped with the Cummins diesel with over 600 lb-ft of torque, this Ram barely breaks a sweat, even when working hard. Plus, that big diesel can be extraordinarily reliable and long-lasting. The downside? It's an option that really drives up the price point on a used truck. See Dodge Ram 2500 models for sale near you.
9. 2009 GMC Sierra 3500HD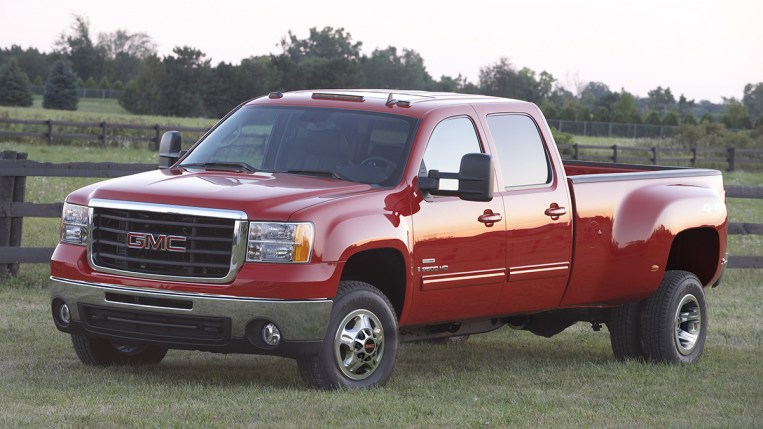 When you need to haul the heaviest loads, the 3500 Series GMC dually is up to the task. The GMC is more upscale and refined than many rivals, offering a nicer interior and excellent driving manners. In other words, it's a bit less trucky than some. Choose the 6.6-liter diesel for maximum hauling capability or the 6.0-liter gas V8 to save some cost upfront. In either case, the GMC can handle upwards of 5,000 pounds of payload. See GMC Sierra 3500 models for sale near you.
10. 2009 Nissan Titan Pro-4X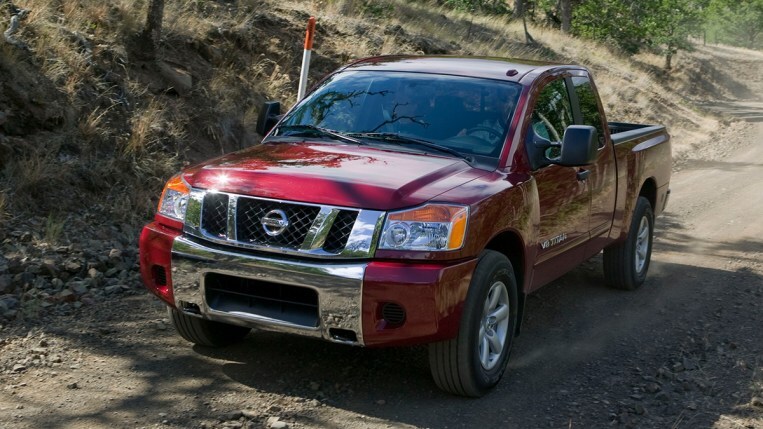 Unlike some on this list, you can have the near top-level 4WD trim Titan (Pro-4X) at this price point. And it's a great package, with 11 inches of ground clearance, a locking rear diff, and performance shocks. And like all Titans, this one is powered by a strong 5.6-liter V8 and 5-speed automatic. It's a fantastic powertrain and one that really makes the Titan feel athletic and fun to drive. Best of all, a Titan from this generation is rated to tow around 9,000 pounds, handling the heavy-duty work. See Nissan Titan models for sale near you.
10 Best Used Full-Size Trucks Under $15,000
2008 Toyota Tundra
2008 GMC Sierra 1500
2007 Chevy Silverado 2500HD
2007 Ford F-250 Super Duty
2009 Ford F-150
2009 Chevrolet Silverado 1500
2010 Dodge Ram 1500
2005 Dodge Ram 2500 Heavy Duty
2009 GMC Sierra 3500HD
2009 Nissan Titan Pro-4X