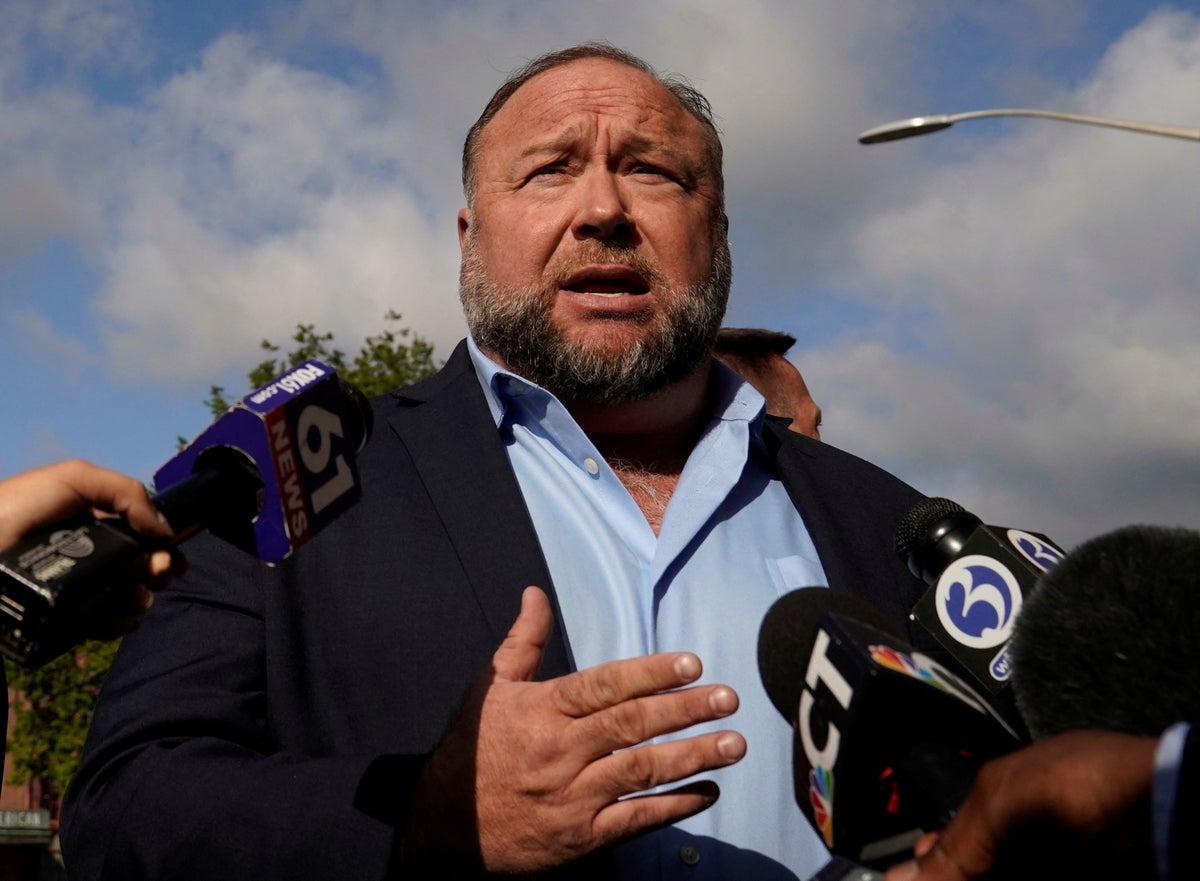 Jury shown video of Alex Jones mocking Sandy Hook parents
The second defamation trial of conspiracy theorist Alex Jones is underway in Connecticut as he faces the families of the victims of the Sandy Hook Elementary School shooting that he claimed was a hoax in broadcasts to his millions of viewers.
Jones appeared outside the courthouse on Tuesday morning and in brief statements to reporters called Judge Barbara Bellis "a tyrant".
Last week the court heard three days of testimony from Brittany Paz, an appointed representative of Infowars, Jones's media company, about its operations — although much of her testimony was evasive. The jury was shown how Jones's audience grew exponentially following the tragedy and company revenues increased dramatically.
Multiple videos have been shown of Jones's egregious claims about the shooting, including when he mocked the parents of victims as "crisis actors" and displayed completely false information about the events of the day.
Last month he was ordered to pay nearly $50m to the parents of one of the slain children by a Texas jury following a similar lawsuit. Now, jurors will decide how much he should pay relatives of eight victims and the FBI agent who responded to the scene of the 2012 massacre.
1663705677
Questioning is jumping around from discussions on memes, to George Orwell's 1984, the Obama campaign, and the success of Isis's social media campaign.

The court is shown the same clip of Jones again from the day of the Sandy Hook massacre in December 2012.

Mr Pattis asks whether Jones is appealing to fear in the clip, or if people already are fearful. "People can be scared," Mr Watts says.

"Legitimately so," Mr Pattis says before comparing Jones saying "they are coming" to Paul Revere saying "the British are coming".
Oliver O'Connell20 September 2022 21:27
1663704848
Mr Pattis begins his cross-examination of Mr Watts.

He begins by asking if Alex Jones is a domestic enemy. Mr Watts says no.

Mr Pattis reviews Mr Watts' credentials, experience, writing, and media appearances. On the subject of his Wikipedia page, it transpires that it has been edited on several occasions by people with IP addresses traced back to Russia.

Oh the bots are after you? Mr Pattis asks. I dunno, are they? Mr Watts responds.

He asks Mr Watts what he understands by the term "deep state", he replies that it is a derogatory term implying that there is a group controlling the government.

It is not clear where this line of questioning is leading.
Oliver O'Connell20 September 2022 21:14
1663703260
Mr Watts said he could do a "bare minimum reach" analysis by recreating missing data using the Way Back Machine, Infowars' website, and Sprout Social — which tracks how content sperad and grew on various social platforms.

He says the main Infowars website gets a lot of traffic from visitors who go directly there rather than arriving there via social media, which explains why Jones wasn't as impacted as some believed (and he had claimed) after he was deplatformed from social media platforms in 2018.

Using the Wayback Machine and Google Analytics, Mr Watts assembled a snapshot of how many times Infowars' Sandy Hook content was viewed and discussed between 2012 and 2018.

Mr Watts said the minimum estimate for how many views Infowars' bogus Sandy Hook content got via social media (Facebook, Twitter, YouTube) in that period was 550 million.
Oliver O'Connell20 September 2022 20:47
1663702086
Court resumes and Mr Watts is asked to give an overall estimate of Jones' online reach.

Mr Watts replies that he was missing parts of the data relating to Facebook impressions among other things.

Of the data that was available, he was able to trace the partial spread of Sandy Hook lies spreading out from Infowars on social media sites.
Oliver O'Connell20 September 2022 20:28
1663700473
The company's organisational chart is brought back up to try and show that Infowars is actually an organised, well-run place that was able to track sales and traffic and effectively drive them with content that excites the audience.

As Jones's father David notes, to "emulate spikes" in traffic.

Court is now on a 15-minute break.
Oliver O'Connell20 September 2022 20:01
1663699211
Reviewing some of Jones's video content from Infowars, Mr Watts notes it is "highly effective in terms of content production" and the use of war imagery and words is "incitement".

We are now doing another deep dive into analytics relating to the Infowars website. Much of this audience and sales data was shown in last week's testimony.
Oliver O'Connell20 September 2022 19:40
1663697447
Court resumes and the jury return.

Disinformation expert witness Clint Watts continues his testimony with the plaintiffs' attorney Josh Koskoff continuing direct examination.
Oliver O'Connell20 September 2022 19:10
1663694711
Watch: Alex Jones' audience increased 50 per cent in 2013
Oliver O'Connell20 September 2022 18:25
1663693263
Plaintiffs' lawyer compares the audience numbers for other rightwing news and opinion sites and personalities, including Newsmax, Rush Limbaugh, and Glenn Beck, which attract similarly-sized audiences as Infowars.

He asks Mr Watts if any of them questioned the events of Sandy Hook within three hours of the tragedy. Mr Watts says no, to the best of his knowledge they did not.
Oliver O'Connell20 September 2022 18:01
1663692500
The jury is brought back into the room and a clip of Alex Jones' show from the day of the Sandy Hook shooting is shown.

Mr Watts is asked to analyse the video and says that Jones deploys several methods when getting his message across: a fear of disarming Americans of their guns, the demonisation of a specific group (using "they" and "us" rhetoric), and stoking anger by saying there is a plot. He is building a community around this false narrative with the audience.

He then tries to sell magazine subscriptions to this community.
Oliver O'Connell20 September 2022 17:48