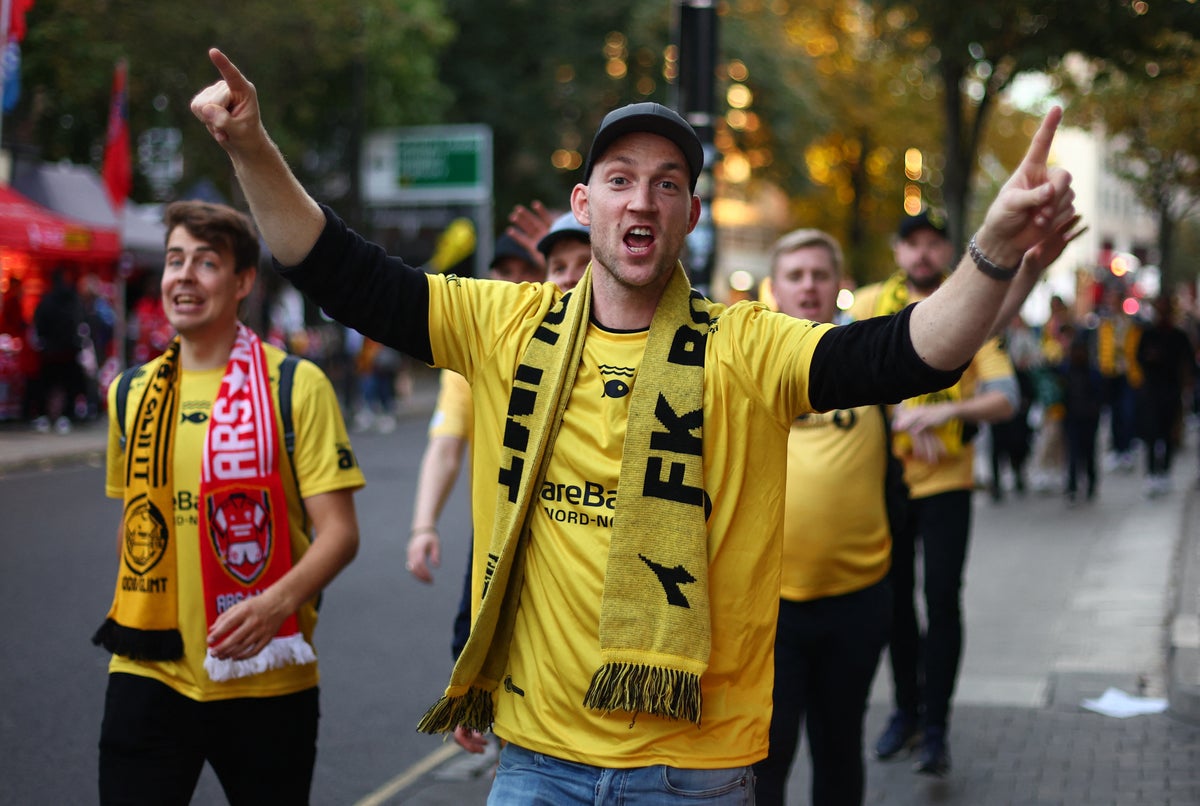 Arteta refuses to admit Arsenal are title contenders
Mikel Arteta will hope to continue Arsenal's stellar form as they welcome Bodo/Glimt to the Emirates stadium tonight. The Gunners were triumphant in the north London derby at the weekend leaving them top of the Premier League table ahead of their clash with Liverpool on Sunday.
Arsenal are unbeaten in the Europa League this term but have only played one game – a 2-1 victory over FC Zurich – thanks to their match versus PSV Eindhoven being postponed due to the passing of Queen Elizabeth II. Their opponents this evening, Bodo/Glimt, are also yet to lose having picked up one win and one draw from their opening two fixtures. That means that the winner of tonight's clash will finish the matchday top of Group A.
Arteta is aware of the hectic schedule facing his players and says he will not hesitate to rotate his squad so it will be interesting to see how strong a line-up he chooses tonight. The Gunners boss will no doubt have one eye on the Liverpool game this weekend, but he will also want to secure Europa League qualification as soon as possible.
Follow all the Europa League action from the Emirates Stadium as Arsenal host Bodo/Glimt, after the conclusion of Omonia vs Manchester United:
1665080346
Omonia 1-2 Man Utd
75 mins: Fred comes on to replace Antony as Erik ten Hag looks to make things more secure in the middle of the park. He's immediately involved in a handball appeal as Omonia are certain that they should have a penalty.
This isn't going to be given though as a bobbling ball hits the Man Utd man in the chest.
Michael Jones6 October 2022 19:19
1665080173
Omonia 1-2 Man Utd
72 mins: Out of necessity Manchester United have a lot of attacking players on the pitch. Ronaldo, Martial, Rashford and Antony are all playing ahead of Casemiro and Eriksen which can leave spaces in midfield for Omonia to exploit.
Erik ten Hag will be hoping for another goal to seal this victory but as it stands United are vulnerable.
Michael Jones6 October 2022 19:16
1665079933
Omonia 1-2 Man Utd
69 mins: Close! A long ball comes over the top and bounces kindly into the Manchester United box for Bruno. David De Gea is off his line and the striker tries to flick it over him.
His connection isn't good and he just prods it into the hands of the goalkeeper.
Michael Jones6 October 2022 19:12
1665079829
Omonia 1-2 Man Utd
66 mins: Adam Matthews tries to nick the ball off Marcus Rashford and comes off worse from a poorly-timed challenge. He's okay though and is quickly back on his feet.
Manchester United will want another goal just to be secure in the game but this has been a composed comeback marshalled expertly by Marcus Rashford.
Michael Jones6 October 2022 19:10
1665079609
GOAL! Omonia 1-2 Man Utd (Martial, 63')⚽️
63 mins: Manchester United take the lead!
Anthony Martial scores again after coming on to replace Bruno Fernandes. Lisandro Martinez threads the ball up to Marcus Rashford who flicks it over to Martial as the forward arrives from the left side.
He shifts it away from a defender then smokes a low finish into the gap between the goalkeeper and the near post!
Michael Jones6 October 2022 19:06
1665079391
Omonia 1-1 Man Utd
60 mins: Antony and Fernandes combine on the right side before knocking the ball back to Casemiro. He sends it over to Eriksen who gives it back to Antony making his way inside from the wing.
He shoots and a deflection takes the ball behind for a corner. 30 minutes to play.
Michael Jones6 October 2022 19:03
1665079150
Omonia 1-1 Man Utd
56 mins: In all honesty it is a deserved goal for Manchester United who dominated proceedings for the majority of the first half. They've also started the second 45 minutes on the front foot too. Can the Red Devils go on to get a winner?
Michael Jones6 October 2022 18:59
1665078998
GOAL! Omonia 1-1 Man Utd (Rashford, 53')⚽️
53 mins: Equaliser! Manchester United are back in it!
A long diagonal pass comes over to Marcus Rashford whose first touch isn't great. He looks to have given the ball away to Nemanja Miletic but an overlapping run from Cristiano Ronaldo draws the defender away and Rashford recovers the ball.
He checks to the right and belts a low shot into the far bottom corner!
Michael Jones6 October 2022 18:56
1665078934
Omonia 1-0 Man Utd
51 mins: It's a decent effort from Bruno Fernandes who gets the ball up and over the wall but there's not enough curl on it to reach the corner and Fabiano clings onto the effort.
Michael Jones6 October 2022 18:55
1665078885
Omonia 1-0 Man Utd
49 mins: Erik ten Hag's substitutions haven't forced a change in formation as they are like-for-like swaps. Bruno Fernandes and Christian Eriksen attempt a couple of one-twos to get into the box but Fernandes is brought down just outside by Hector Yuste.
What can United do from this position?
Michael Jones6 October 2022 18:54