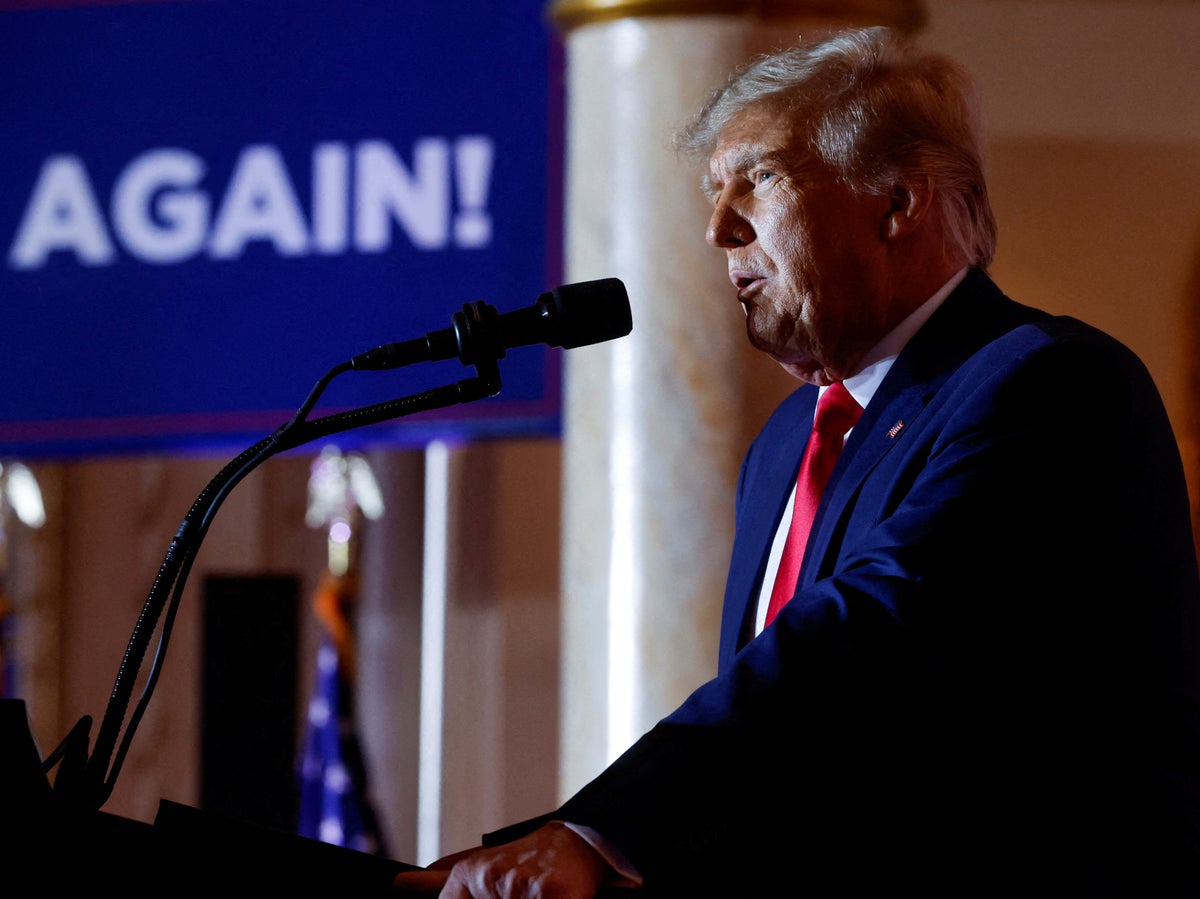 Merrick Garland appoints special counsel to oversee Trump investigations
The Justice Department is reportedly seeking to question Mike Pence as part of its ongoing investigation into January 6 and Donald Trump's months-long effort to overturn the 2020 election.
Mr Pence, his vice president, was in the Capital at the time of the attack to participate in the ceritfication of the results. His life was directly threatened by rioters during the attack, and his security team was forced to rush him away to a secure position just a few feet from where attackers had breached the building.
Since then, Mr Pence has been clear that Mr Trump's actions during the riot endangered his family. The news is the first confirmation that the DoJ's January 6 investigation has definitively expanded to include the highest levels of the White House after months of prosecutions of lower-level offenders as well as members of a right-wing militia charged with seditious conspiracy.
1669233032
The Justice Department is reportedly seeking to question former vice president Mike Pence as a witness as part of its criminal investigation into former president Donald Trump's attempts to stay in office after the 2020 election, The New York Times reported.

The former vice president, whose life was threatened during the insurrection at the Capitol on 6 January after he refused to overturn the election results, is reportedly open to speaking. Mr Pence reportedly sees the investigation by the Justice Department as separate from the one held by the House select committee investigating the January 6 riot.

Read more from Eric Garcia:

Justice Department seeks to question Pence about January 6

The Justice Department is reportedly seeking to question former vice president Mike Pence as a witness as part of its criminal investigation into former president Donald Trump's attempts to stay in office after the 2020 election, The New York Times reported.
John Bowden23 November 2022 19:50
1669231362
Trump rages at Bill Barr for saying it was increasingly likely ex-president would face criminal charges
Donald Trump is furious once again with his former attorney general, Bill Barr, over the latter's recent speculation that Mr Trump will face criminal indictment.
Mr Barr said during an interview with PBS that it was "increasingly more likely" in recent days that the DoJ would move to charge Mr Trump with a crime, and added that he believed the agency likely already had enough evidence to do so.
The former president is accused of illegally retaining presidential records, including highly classified documents, at Mar-a-Lago in defiance of the National Archives and, by extension, federal law.
Read more in The Independent:
John Bowden23 November 2022 19:22
1669228443
When is the Georgia Senate runoff between Walker and Warnock – and what are the stakes?
Democrats clinched their Senate majority earlier this month when they won seats in Nevada and Arizona. Still, there is one last contest in the battle for the Senate: The runoff race in Georgia between Democratic incumbent Senator Raphael Warnock and Trump-backed Republican Herschel Walker.
The race will determine whether the Senate will remain evenly split with Democrats and Republicans each holding 50 Senate seats, where Vice President Kamala Harris breaks ties, or whether Democrats will have a one-seat majority in the Senate.
Here's our breakdown of the final and most important Senate race in the country:
John Bowden23 November 2022 18:34
1669226432
This week offered a glimpse into Kevin McCarthy's future
We may be getting close to Thanksgiving, but House Minority Leader Kevin McCarthy might as well be wearing Ebenezer Scrooge's pajamas as this past week has shown him a glimpse of the Congress yet to come, write Eric Garcia in The Independent today.
Mr McCarthy has often spent his career being the equivalent of the assistant coach–somebody everybody likes to work with but so far has not had the burden of responsibility. In the California legislature, he often served as an intermediary who helped negotiate deals between the Democratic majority and recalcitrant Republicans.
Read more about what his political future will look like as Republicans look poised to take a single-digit majority in the House:
John Bowden23 November 2022 18:00
1669224639
2024 primary: Newsmax shares poll putting Trump way ahead
Far-right pro-Trump network Newsmax is leaning hard into the story that the former president is running again, showing viewers the results of a new poll from Emerson that puts Donald Trump dramatically ahead of Ron DeSantis…and puts Liz Cheney marginally ahead of Ted Cruz:
Andrew Naughtie23 November 2022 17:30
1669222839
Mar-a-Lago documents: Appeals court sceptical of Trump's special master
The panel, composed of Chief Judge William Pryor, Circuit Judge Andrew Brasher, and Circuit Judge Elizabeth Cagle Grant, heard arguments from the government and from Mr Trump's attorneys on whether it should allow a privilege review ordered by District Judge Aileen Cannon to continue or reverse the ruling, which prevented the department from using any of the thousands of non-classified documents seized during the search to further any criminal investigation while a third-party special master, New York-based District Judge Raymond Dearie, determines whether any are shielded by attorney-client or executive privilege.
Andrew Naughtie23 November 2022 17:00
1669221039
Trump furious at Bill Barr (again)
Former president Donald Trump lashed out at his former attorney general Bill Barr, calling him "sloppy" and "weak," for saying that it was increasingly likely he would face criminal charges.
Mr Trump posted on his Truth Social account: "Sloppy Bill Barr was a weak and ineffective Attorney General who was fired (he didn't quit!), and now he's nothing more than a disgruntled former 'employee'."
He raged on: "Barr was a 'Bushie' who was petrified of being impeached, which the Dems were going to do until he changed course on the rigged election."
Mr Trump also claimed that the Mar-a-Lago documents case was a hoax. "He knows nothing about the document hoax, and as a lawyer and former AG, shouldn't be talking."
Maroosha Muzaffar reports.
Andrew Naughtie23 November 2022 16:30
1669219200
Trump returns to retruthing QAnon users
On his low days, Donald Trump often skims around Truth Social for flattering memes shared by adoring followers for him to "retruth" with pride. He rarely pays regard to what these users are saying, or what they do with the rest of their profiles. A case in point: his most recent share of a meme praising him for fighting "a cabal", a QAnon dogwhistle term:
The user in question has shared a steady stream of Q-flavoured content, including screenshots of the infamous "Q Drops" that sat at the centre of the violent, racist conspiracy creed until they dried up at the end of 2020.
Andrew Naughtie23 November 2022 16:00
1669217439
Catch up: Why congressional Democrats want Trump's tax returns
It was a victory for Democrats on an issue that seems almost antique now — the issue of Mr Trump's finances took a back seat for many in the media and Democrats especially after January 6 and Mr Trump's efforts to overturn the 2020 election.
With the House Ways and Means Committee now set to receive copies of Mr Trump's tax returns from numerous years, it's worth looking back to refresh our memories of exactly why those documents are so important. Here's an explainer from John Bowden:
Andrew Naughtie23 November 2022 15:30
1669215639
Bannon weighs in on Bolsonaro's election theft claims
Having initially kept quiet after losing last month's presidential election, Brazil's defeated president Jair Bolsonaro – a populist authoritarian who has taken counsel from various people in the Trump orbit – is now contesting the result, claiming that voting machines were somehow compromised.
Among those now getting behind the losing president's claims about the election is convicted felon and former White House adviser Steve Bannon, who has previously appeared with Mr Bolsonaro's son Eduardo at far-right events.
Here's a video the younger Bolsonaro is now sharing in which Bannon draws a parallel between Mr Bolsonaro's race and the ongoing false claims of election fraud being pushed by Kari Lake in Arizona:
Andrew Naughtie23 November 2022 15:00
Thank you for reading this post, kindly check out these amazing online resources