"Step on a crack and break your mother's back; step on a line and break your father's spine," are old wives' tales told to kids when they stand on the fissures of paving stones. Those urban myths are recycled through generations as they are regurgitated by your children to theirs and so forth. From maternal backs and paternal spines, to alternative legends of demons turning up to wreak havoc in one's life, there have been many a variation on the superstition.
Walking over cracks doesn't tend to be something one concerns themselves with past the age of about six. Yet, in the instance of Melvin Udall in James L. Brooks' movie As Good as it Getshis compulsive habit extends beyond superstition, and into the realms of OCD. The Academy Award-winning film, which earned Jack Nicholson his second Oscar for Best Actor in a Leading Role, turns 25 this year, so let's take a trip down memory lane and delve into the story of the gay couple, the disgruntled writer, and the single mother in 1997's As Good as it Gets…
This Redemption Story is As Good as it Gets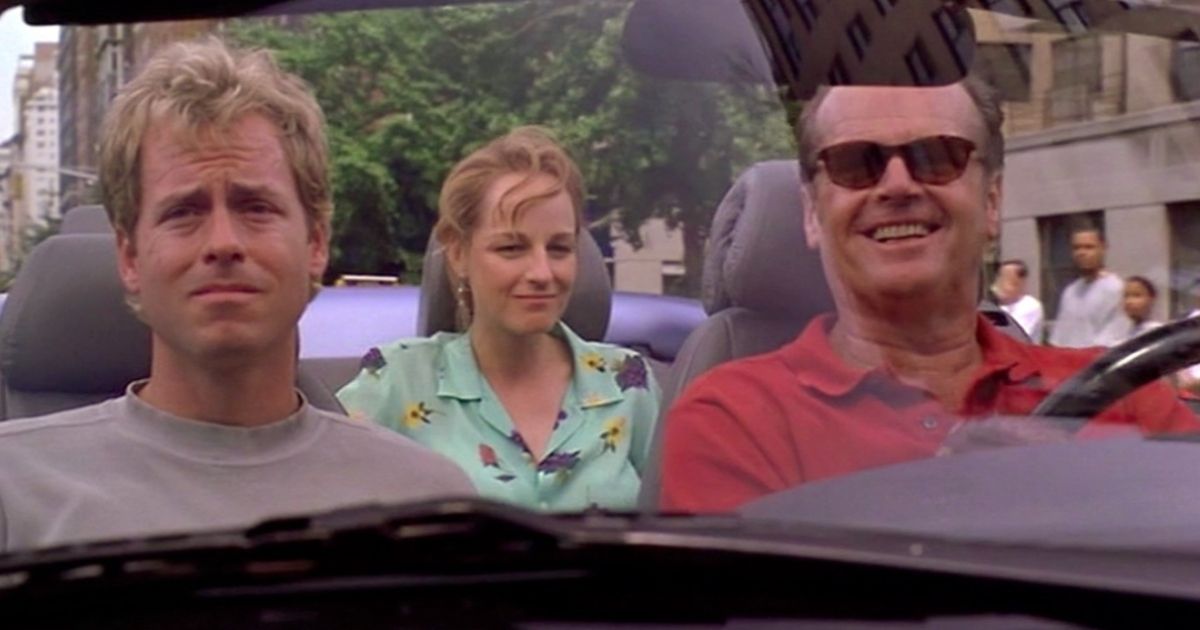 Ranked on Empire's list of "The 500 Greatest Movies of All Time," the romantic-dramedy has certainly sealed its legacy as a true icon of its era. As Good as it Gets is a feel-good story of redemption, love, and unlikely friendship. The film follows Melvin Udall, a misanthropic writer suffering from extreme OCD and hypochondria, who is seemingly at war with not only his neighbors and the waitress at the local diner, but also his own mind.
Related: Best Movies Of The '90s, Ranked
A germaphobe of the highest degree, Melvin takes his own plastic cutlery to restaurants and washes his hands profusely. He treats the gay couple nextdoor, Simon (an Oscar-nominated Greg Kinnear) and Frank (a delightful Cuba Gooding Jr.), with utter contempt, and his often politically incorrect manner has him succumb to regular prejudicial slurs. Udall's apparent disdain for everything and everyone extends to Simon's dog, Verdell. After Simon is savagely attacked, Melvin becomes the primary caregiver to Verdell. His transition from the prickly and loathsomely snarling protagonist who takes his anger out on the world, to becoming a loving, caring, and emotionally attuned individual is quite the character arc. As Good as it Gets is as much a film about understanding as it is about learning how to love and be vulnerable.
Jack Nicholson's Academy Award-Winning Performance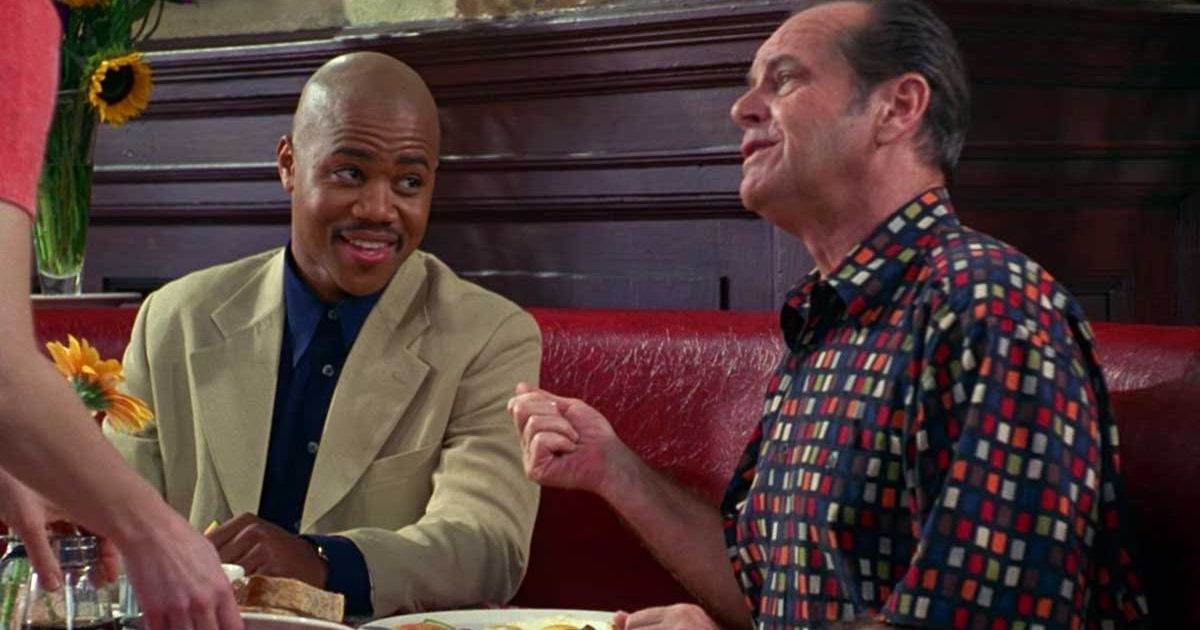 Nicholson undoubtedly deserved an Academy Award for his performance in The Shiningand perhaps in Five Easy Pieces as well, but those wins were not to be. Instead, 22 years after busting his Oscar virginity with his rendition of Randle McMurphy in Miloš Forman's screen adaptation of Ken Kesey's novel One Flew Over the Cuckoo's NestNicholson got his second taste of victory for his scintillating display as Melvin Udall in As Good as it Gets.
Nicholson is one of those actors that, regardless of a film's credentials as a credible picture, will always deliver emphatically on-screen. Director James L. Brooks' movie complements Nicholson's dexterity as an actor, and his initial Scrooge-like persona as the grumpy, resentful, and eye-rolling writer is comical genius. As the movie is about character reform and the breaking down of barriers, Nicholson's Melvin begins a gradual process of reintegration and development of relationships.
Beginning with his heart-warming bond with the Brussels Griffon, Verdell, his icy exterior is eventually chipped away through a natural progression, where his fondness for the dog has him adopting a fatherly approach to his relations with Spencer (Jesse James), and then to a romantic bond with a woman, Carol Connelly (Helen Hunt). Melvin goes on a journey of self-discovery that is neither clichéd nor predictable. Nicholson is expertly multidimensional in his portrayal, and mixes a tenacious zeal with a warmth and tenderness that makes his remarkable evolution so conceivable.
Helen Hunt's Academy Award-Winning Performance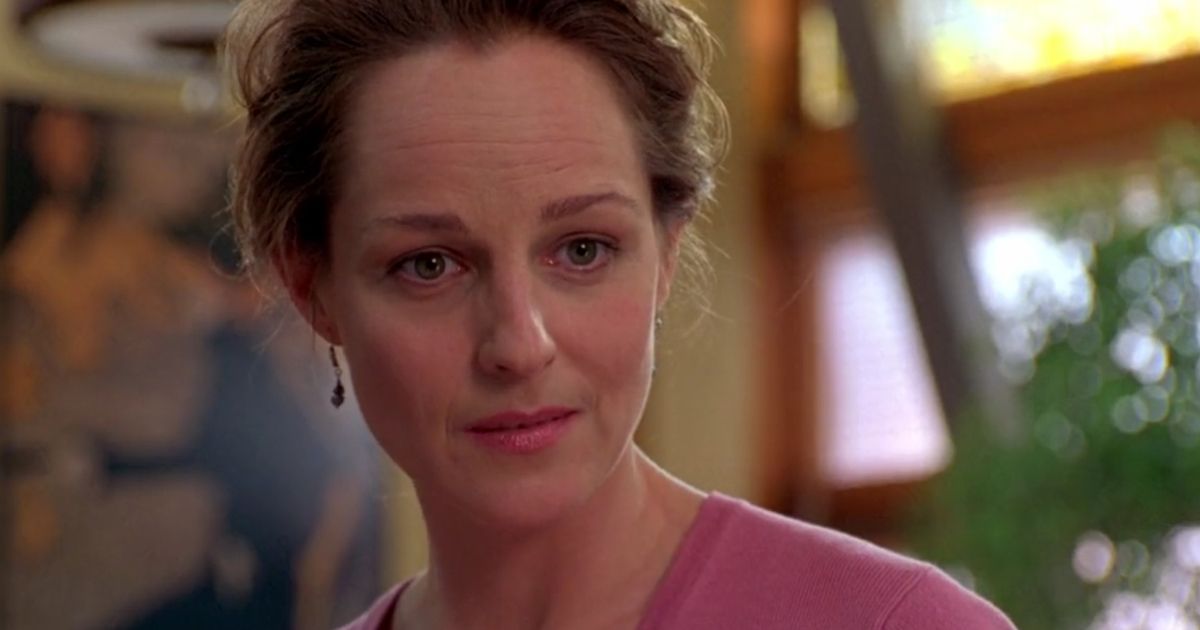 Helen Hunt plays Carol, a waitress with a heavily asthmatic son. Hunt's depiction of a working-class mother struggling to make ends meet is both authentically class-conscious and heartbreaking. Rundown and exhausted by her relentless routine of waitressing and nursing her chronically ill son, her resilience in the unforgiving face of adversity makes the character even more extraordinary. Her pragmatism and sharp-wittedness make her more than a match for the uncompromising Melvin, whose ruthless tongue oversteps the mark on several occasions.
Yet, despite the cruel hand that she's been dealt, her empathy, underlying rapport with her problematic customer, and steadfastness in ensuring her parenting and caregiving remain unimpeded are beautifully illustrated throughout. While it's most definitely a movie remembered fondly for Jack Nicholson's performance as Melvin, Hunt's showing is humane and tactile, and like Carol matches Melvin on-screen, Hunt equaled Nicholson at the 1998 Academy Awards, taking home the prestigious gong for Best Actress in a Leading Role.
As Good as it Gets is one of those star-studded classics from the '90s that simply isn't made these days — $50 million was spent to just get some amazing actors together to tell a simple, sweet, but detailed and artfully constructed movie with no previous intellectual property. 25 years later, it's clear that movies like As Good as it Gets have become increasingly rare, but its performances are timeless.
Thank you for reading this post, kindly check out these amazing online resources