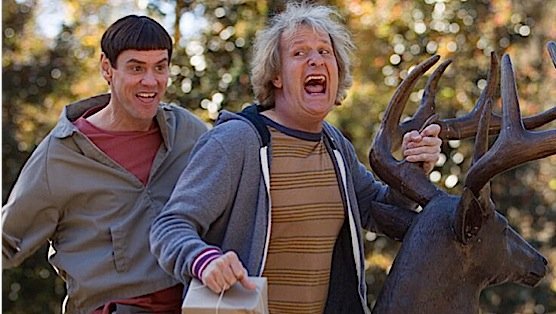 Jim Carrey is a comedy genius with a talent among the likes of other greats like Robin Williams, Chris Farleyand one actor he portrayed, Andy Kaufman. Actors like these are funny, and have big imaginations that are evident in their careers. Sometimes their ideas have to fall by the wayside though, as not everything in Hollywood works out the way people want.
Back when Carrey was making his sequel Dumb and Dumber Tohe came up with an idea to make a movie behind the scenes. Carrey reached out to directors Daniel Kwan and Daniel Sheinertaka The Daniels, who went on to make Everything Everywhere All At Onceand they recalled the pitch in a recent roundtable of writers hosted by The Hollywood Reporter. Kwan revealed that he and Scheinert were approached by Jim Carrey about making a horror movie which would be shot on the set of 2014's Dumb and Dumber To.
Kwan said:
"Very early in our careers, Jim Carrey reached out. He had just seen Paranormal Activity and was like, 'Guys, it's found footage and it's horror — have you seen it?' And we were like, 'Uh-huh, we've heard of it. Where is this going?' And he was like, 'I haven't seen anyone do that — but with comedy. And I have this great idea.'"
Carrey explained that part of Dumb and Dumber had been filmed at Colorado's Stanley Hotel, where Stephen King got the idea for The Shiningand that the production's time there had been a spooky experience. Kwan went on:
"Basically, the set of Dumb and Dumber was famously a haunted set. He's like, 'The whole time we were shooting, things were breaking, people were getting hurt, doors were swinging, and it felt haunted. We're going to shoot Dumb and Dumber Toand I want you guys to do a found-footage horror comedy on the set. While we're filming, you guys are going to make a feature-length, behind-the-scenes video that slowly becomes a horror film.' We're like, 'OK, we're in. This is amazing.' We wrote a whole outline and were really excited."
Kwan continued:
"Then we sat down with the producer, we pitched the idea, and they're like, 'We're not actually going to make this. I'm sorry, Jim got really excited, but there's no way the studio is going to let us do a movie while they're shooting Dumb and Dumber To.'"
Kwan explained that everyone was pretty disappointed, and for good reason! This sounds like it would have been an amazing movie, and I don't know why it hasn't been revisited. I hope Carrey and the Daniels get to make this movie someday, and I know if they do, I'll be watching it.
via: EW
Thank you for reading this post, kindly check out these amazing online resources