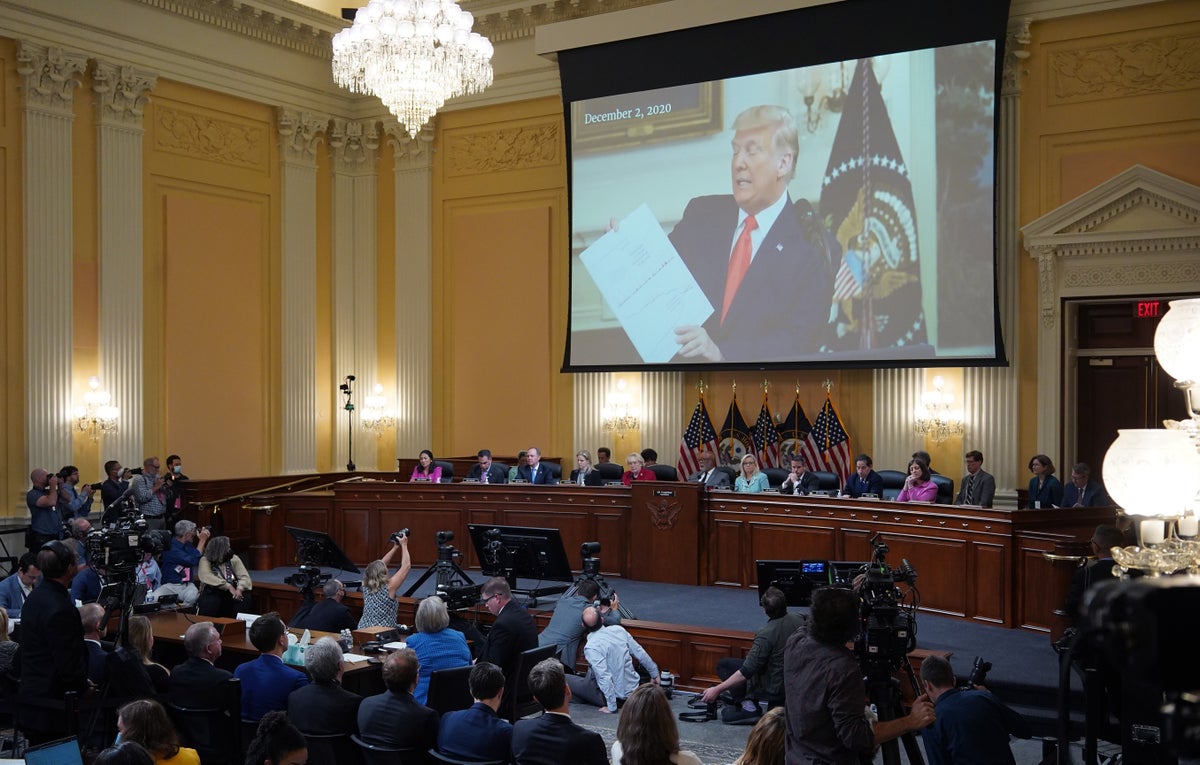 The third public hearing of the January 6 House select committee on Thursday featured bombshell testimony regarding a pressure campaign by Donald Trump and law professor John Eastman to get former vice president Mike Pence to overturn the 2020 election.
The committee has sought to demonstrate that Mr Trump knew he lost the election, yet nonetheless "oversaw a scheme" to overturn the result "when the vice president refused to go along with it" and that "he [Mr Trump] unleashed a violent mob against Pence at the Capitol".
Members of Mr Trump's family and staff testified about a "heated" call with Mr Pence that morning, after which the president rewrote his rally speech with sharp lines about his vice president.
He later sent a tweet causing angry rioters to surge forward, with some coming within 40ft of Pence as he was evacuated.
The day after the failed attempt to overturn the election, Mr Eastman emailed asking for a pardon, which he did not receive.
The committee also sent a request to Supreme Court justice Clarence Thomas's wife Virginia 'Ginni' Thomas, a conservative activist and lawyer.
1655454602
Trump was repeatedly told vice president lacked legal authority to overturn 2020 election
The January 6 committee shared a video clip of Marc Short's testimony in Thursday's hearing.
Mr Short was the former vice president Mike Pence's Chief of Staff who served in the Trump administration in multiple positions over four years.
In his testimony, Mr Short said Mr Trump was told repeatedly that Mr Pence lacked the Constitutional and legal authority to do what Trump demanded he do.
Sravasti Dasgupta17 June 2022 09:30
1655451002
Pence did his job that day, says Rep Pete Aguilar
Committee member Pete Aguilar has said former vice president Mike Pence, who was allegedly pressured by then president Donald Trump to overturn the election results, did his job that day and "acted presidential".
In an interview with ABC News's Linsey Davis, Mr
said: "I think Mike Pence stood behind Donald Trump during a lot of times when I would oppose the policies that they advocated.
"I think its important and we need to remind folks that he did his job that day. He acted presidential. He was down in an undisclosed location but he was acting presidential- calling the acting secretary of defence, calling congressional leaders, he was doing the job. While I am frustrated with policies of the Trump-Pence administration, I think it is important to be honest about his role that day."
In Thursday's hearing the committee revealed Mr Trump knew he lost the election but "oversaw a scheme" to overturn the result "when the vice president refused to go along with it" and that "he [Mr Trump] unleashed a violent mob against Pence at the Capitol".
Sravasti Dasgupta17 June 2022 08:30
1655449200
Jan 6 hearing – day 3: Trump knew election plot was illegal and egged on riot that threatened Mike Pence's life
The third public hearing into the Capitol riot heard evidence that Donald Trump was repeatedly told his plan to overturn the election result was illegal, even by the lawyer urging him to do so.
The Independent's Washington team was on Capitol Hill today for the shocking testimony.
Oliver O'Connell17 June 2022 08:00
1655448302
YouTube deletes video of January 6 committee hearing, report says
Sravasti Dasgupta17 June 2022 07:45
1655447400
Opinion: What we just heard about Trump, Pence and Giuliani on January 6th was beyond the worst-case scenario
They knew. They all knew.
Today's hearing focused on Donald Trump, John Eastman, and his allies' effort to pressure Vice President Mike Pence to overturn the results of the 2020 election on January 6. According to testimony, key players in Trump's inner circle — including Trump and Eastman themselves — knew that Pence overturning the election would be illegal, but pushed him to do it anyway. In other words, they knowingly launched an illegal attempted coup.
Oliver O'Connell17 June 2022 07:30
1655446502
Anti-vaxx doctor Simone Gold sentenced for role in Capitol riots
Simone Gold, a leading anti-vaccine California doctor, was sentenced to two months of imprisonment for storming the US Capitol and delivering a speech to the rioters during the January 6 insurrection.
Gold told the court that she regretted entering the Capitol and didn't intend to get involved in an event that was "so destructive to our nation".
"It's the opposite of who I am," she told US district judge Christopher Cooper.
Sravasti Dasgupta17 June 2022 07:15
1655445600
'The Costanza defence': Trump's Jan 6 arguments likened to 'Seinfeld' joke
Donald Trump has been accused of using the "Constanza Defence," a reference to an episode of the classic sitcom Seinfeld, to justify his false claims about the 2020 presidential election.
In a Tuesday episode of MSNBC's The Beathost Ari Melber said the former president seemed to be copying a line of logic from Seinfeld character George Constanza, who says in one episode, "Remember, it's not a lie if you believe it."
Oliver O'Connell17 June 2022 07:00
1655444702
'Pouring gasoline on the fire': Trump knew election plot was illegal
Video depositions made public by the House select committee revealed on Thursday that Donald Trump knew the plan to have his vice president commandeer the 6 January session of Congress and declare Republicans the winners of the election was illegal.
Ivanka Trump, the former president's daughter-turned-senior-adviser, recalled how she heard Mr Trump on the phone telling Mr Pence: "You are a wimp, you'll be a wimp."
Shortly after the call, Mr Trump posted a tweet in which he said Mr Pence "didn't have the courage to do what should have been done to protect our Country and our Constitution, giving States a chance to certify a corrected set of facts, not the fraudulent or inaccurate ones which they were asked to previously certify".
A former White House aide told the January 6 committee that the tweet was like "pouring gasoline on the fire" as rioters starting chants of "hang Mike Pence" and calling for Mr Pence to be brought out from the Capitol.
Sravasti Dasgupta17 June 2022 06:45
1655443800
'Democracy is on a knife's edge'
Below is the full statement from retired conservative federal judge J Michael Luttig submitted to the January 6 committee ahead of his testimony. The statement was obtained and published by CNN.
Oliver O'Connell17 June 2022 06:30
1655443202
Who is John Eastman?
Conservative attorney John Eastman has been at the centre of this week's House Select Committee on the January 6 hearing.
The hearing has heard lots about Mr Eastman and his opinions, and how he and then president Donald Trump had tried to persuade vice president Mike Pence on 5 Jan in an Oval Office meeting, that he had the constitutional power to block Biden's ascent.
Andrew Buncombe explains the role Mr Eastman played in pushing Mr Trump's plan to derail democracy:
Sravasti Dasgupta17 June 2022 06:20