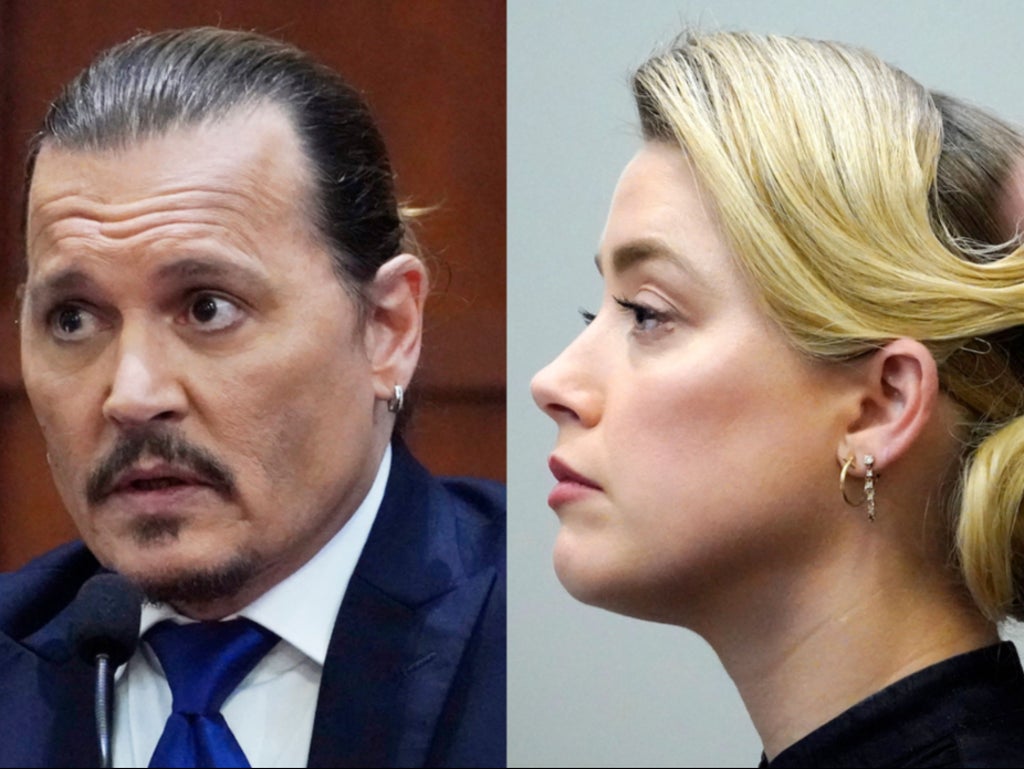 WARNING: This live blog contains allegations of physical and sexual violence that some readers may find distressing.
Amber Heard's defence case continues in the defamation trial brought against her by ex-husband Johnny Depp, with the Pirates of the Caribbean star expected to be questioned again in court later today.
Heard is being sued by Depp for $50m for implying he abused her in a 2018 Washington Post op-ed. Although she didn't name him, he claims her allegations impacted his ability to work. She is pursuing a counterclaim of $100m.
Supermodel and Depp-ex Kate Moss will testify on Wednesday as a rebuttal witness for the actor. She is able to appear following Heard's mention of her during testimony referring to a rumour about an alleged altercation between the two when they dated in the 1990s.
On Monday morning, the court heard from two expert witnesses, a hand surgeon who said he found Depp's account of the severed finger fight inconsistent with the injury, and a psychiatrist who said the actor's behaviour was "consistent with a perpetrator of intimate partner violence".
1653326155
Spectator removed from courtroom after shouting 'this baby is yours' at Johnny Depp
A spectator was reportedly removed from the Amber Heard v Johnny Depp defamation trial, after shouting at the Pirates of the Caribbean actor.
According to live reports from Law & Crimea woman with a baby was removed from the court's gallery after yelling out to Depp that they are soul mates and "this baby is yours".
Oliver O'Connell23 May 2022 18:15
1653325166
Court breaks for lunch and will resume at 1.55pm.
Oliver O'Connell23 May 2022 17:59
1653325002
Depp's lawyer asks Dr Spiegel about the medications that Depp was prescribed and then about his knowledge of whether earpieces are used by actors in Hollywood movies.

Dr Spiegel repeats an earlier statement about not knowing anything about acting.

In a bizarre moment he is asked if he knew that Marlon Brando used an earpiece when he acted to which the doctor exclaimed: "Isn't he dead?"

Depp could be seen putting his head in his hands at this comment.
Oliver O'Connell23 May 2022 17:56
1653324177
Dr Spiegel was asked why he called Depp an idiot in his written testimony.

The doctor clarifies that he meant Depp was an "idiot in planning" because of when he planned to give video evidence.
Oliver O'Connell23 May 2022 17:42
1653323935
Kate Moss to testify on Wednesday
According to reports, British supermodel and Johnny Depp ex Kate Moss will testify by video link on Wednesday as a rebuttal witness.
The actor will also be called as a rebuttal witness that same day.
Oliver O'Connell23 May 2022 17:38
1653322364
In cross-examination, Dr Spiegel and Depp's lawyer engage in quite a back and forth about the American Psychiatric Association's Goldwater Rule.

The rule, named after US Senator and 1964 presidential nominee Barry Goldwater, says that psychiatrists should not give professional opinions about public figures that they have not examined in person.

Heard's team motioned for a medical review of Depp twice, but the motions were denied.
Oliver O'Connell23 May 2022 17:12
1653321460
Oliver O'Connell23 May 2022 16:57
1653321064
Dr Spiegel is asked if substance abuse is a risk factor for intimate partner violence. He confirms that it is as well as a precipitating cause.

He says perpetrators of IPV have a narcissistic streak and lack empathy. He says that they generally keep people around as long as they are useful to them, and have a large sense of entitlement and a need for praise.

Dr Spiegel goes on to say that this whole trial is an example of this sparking objections from Depp's legal team.
Oliver O'Connell23 May 2022 16:51
1653320086
Testifying further about intimate partner violence, Dr Spiegel says it is often used to maintain power, authority, and control and can include psychological abuse in the form of threats, intimidation, and body language in addition to physical violence.
Oliver O'Connell23 May 2022 16:34
1653319614
Dr Spiegel says that people with substance abuse disorder often also take legally prescribed substances to help them sleep or stay awake as their circadian rhythm might have been thrown off by substance use.

Noting that Depp used a number of prescription medications, including Adderall for ADHD and Seroquel, Dr Spiegel says these drugs should not be used with cocaine or MDMA.

He adds that when you are "playing with fire" when you add together substance abuse and intimate partner violence.
Oliver O'Connell23 May 2022 16:26