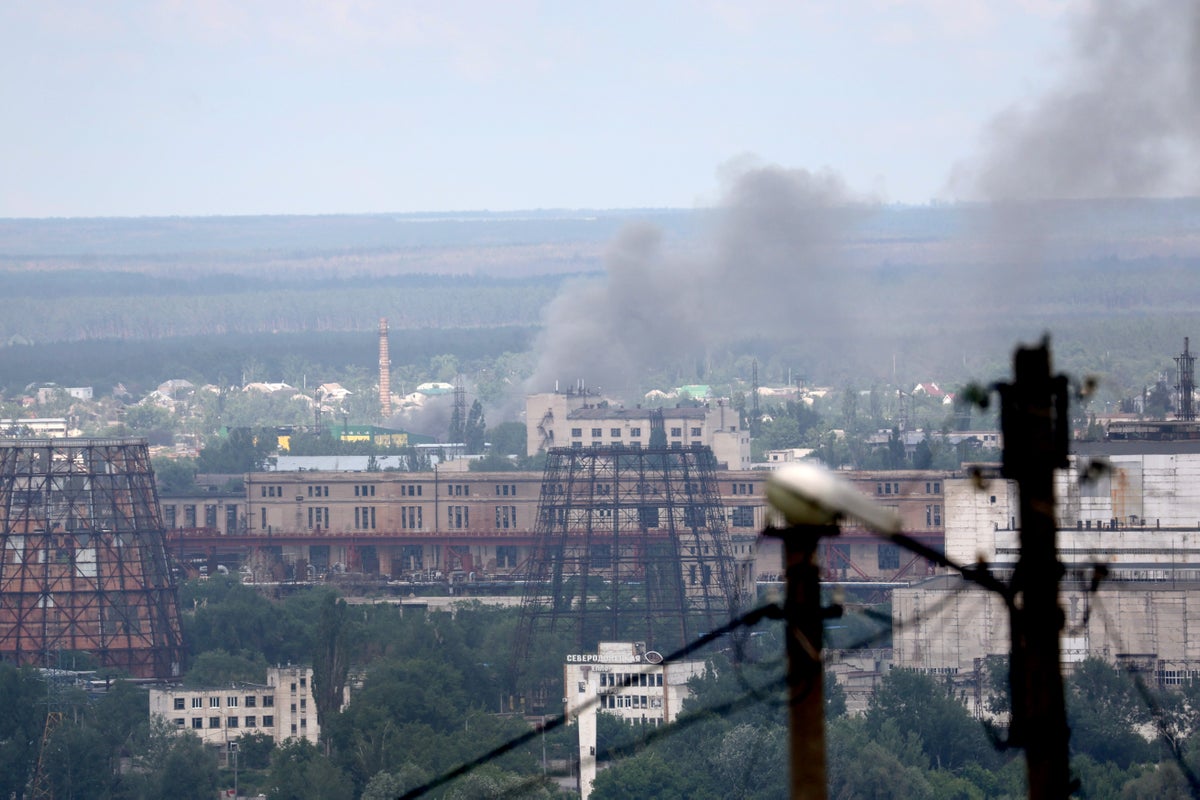 Civilian casualties in Russia's war on Ukraine have breached the 10,000 mark, the United Nations High Commissioner for Human Rights said late on Thursday after updating its tolls.
A total of 10,046 civilian casualties have been recorded in the besieged country, out of which 4,481 were killed and 5,565 injured, the UN body said.
It added that Ukraine has recorded most casualties in the eastern Donbas region, where 2,611 civilians have been killed.
Ukraine's eastern region is embroiled in fierce fighting between Russian and Ukrainian troops as officials say that the battle for complete control of the key city of Sievierodonetsk is still underway.
Russia now occupies a large proportion of the city and has cut off all the main bridges used as supply routes by Ukraine.
Officials in Sievierodonetsk say around 568 Ukrainian civilians, including 38 children, are still trapped inside the city's Azot chemical plant.
Russia gave a deadline to surrender to Ukrainian forces in the city and offered to evacuate civilians via a humanitarian corridor on Wednesday.
1655446032
Russia has 'strategically lost' war in Ukraine, says head of UK's armed forces
Russia has already "strategically lost" its war on Ukraine and has reached a stage of "more diminished power", the head of the UK's armed forces has said.
Admiral Sir Tony Radakin added that Vladimir Putin had lost 25 per cent of Russia's land forces for only "tiny" gains.
He said that any notion that the war on Ukraine has been a success was "nonsense" even as Russia may secure some "tactical success" in the coming weeks.
Read the full story here:
Arpan Rai17 June 2022 07:07
1655444210
Kyiv says fighting on for complete control of key Donbas city
The Ukrainian defence ministry says fierce fighting is continuing between its defenders and Russian fighters for control over the key Donbas city of Sievierodonetsk.
"In the Sievierodonetsk direction, the occupiers continue to fire from barrel and jet artillery on units of our troops. [They] Inflicted an air strike on the settlement of Ustynivka," the defence ministry said on Friday morning, sharing the latest military update.
"Fighting continues for complete control over the city of Sievierodonetsk," it added.
In Kharkiv, the ministry said Russia's "main efforts are focused on maintaining the occupied borders, preventing the Defence Forces from entering the state border and the rear of a group of troops operating in the Slovyansk direction".
"The enemy tried to conduct reconnaissance by fighting in the area of the settlement of Kochubiyivka. Our soldiers responded with accurate fire and the enemy retreated," the defence ministry said.
Arpan Rai17 June 2022 06:36
1655442997
Civilian casualties in Ukraine war breach 10,000-mark, says UN
The United Nations High Commissioner for Human Rights has confirmed that civilian casualties in Russia's war on Ukraine have exceeded the 10,000 mark, updating its tolls late on Thursday.
Officials said they have recorded 10,046 civilian casualties in the country, out of which 4,481 were killed and 5,565 injured.
Ukraine has seen the most casualties in the eastern Donbas region, where 2,611 civilians have been killed and 3,103 have been injured, the UN office said. Donbas is the site of the heaviest fighting in the besieged country at present.
Officials have said that the true totals are likely higher.
Most casualties, according to the report, were caused by "explosive weapons with a wide impact area, including shelling from heavy artillery and multiple launch rocket systems, and missile and air strikes".
Arpan Rai17 June 2022 06:16
1655441568
Ukraine rescues civilians from Russian-occupied 'ghost villages', says top official
The Ukrainian president's chief of staff Andriy Yermak said that soldiers have managed to depopulate dozens of Russian-occupied "ghost villages" as they continue to make inroads into the Kherson province in the southern part of the besieged country.
Mr Yermak said that he had visited an area some three to four kilometres from Russian positions. Kherson was occupied by Moscow's forces within weeks of invasion.
"Our guys on the ground – the mood is fighting. Even with limited resources, we are pushing back the enemy. One thing is missing – long-range weapons. In any case, we will throw them out of the south," Mr Yermak said.
Arpan Rai17 June 2022 05:52
1655439561
Britain to discuss rebuilding war-hit infrastructure in Ukraine
British leaders will sit down with Ukrainian representatives and business leaders today to discuss the rebuilding of key infrastructure bombarded and destroyed in Kyiv.
The UK is hoping to offer assistance from British companies to Ukraine.
The meeting today will be helmed by the trade secretary Anne-Marie Trevelyan, and will aim to bridge collaboration between the British companies in infrastructure, energy and transport with Ukrainian public and private organisations to help repair the flattened infrastructure.
Ms Trevelyan is also expected to announce changes to trade remedy measures, including reallocating ring-fenced market access for steel imports from Russia and Belarus to other countries including Ukraine.
Arpan Rai17 June 2022 05:19
1655437674
Zelensky says day of EU leaders visit 'truly historic'
Volodymyr Zelensky lauded the visit by "four powerful European states" as he confirmed that Italy, Romania, France and Germany back Ukraine's candidacy to join the European Union.
"Today is a truly historic day – Ukraine has felt the support of four powerful European states at once. And in particular support for our movement to the European Union. Italy, Romania, France and Germany are with us. All four leaders – Mr Draghi, Mr Iohannis, Mr Macron and Mr Scholz – support Ukraine's candidacy," Mr Zelensky said in his nightly address on Thursday.
He added: "Of course, all relevant procedures must be followed, and all EU member states must join. But at our meeting today a big step was made – a step forward."
"It was important for me to hear from the leaders another fundamental thing – they agree that the end of the war and peace for Ukraine must be exactly as Ukraine sees them. As our people see them," Mr Zelensky said.
Mr Zelensky said he is grateful to Italy for its "principled political support, macro-financial and defence assistance".
"Historically we now have the best relations – and I am sure we can do a lot more for our nations," he added.
Arpan Rai17 June 2022 04:47
1655436527
Hundreds trapped in Sievierodonetsk's chemical plant
Officials in Sievierodonetsk have said that hundreds of civilians are still trapped inside the city's chemical steel plant.
Around 568 people, including 38 children, are held inside the Azot chemical plant as Russian forces bombard and shell the region, said Serhiy Haidai, governor of Luhansk oblast where Sievierodonetsk is situated.
This comes just a day after Russia issued an ultimatum to the troops in the key Donbas city to surrender their arms.
The Kremlin said that it would allow all the civilians to leave the chemical plant and from the city via a humanitarian corridor.
Russia has not confirmed the details of the proposed humanitarian corridor.
Arpan Rai17 June 2022 04:28
1655431200
ICYMI: Putin's ally rants about European leaders' visit to Kyiv
Former Russian president Dmitry Medvedev has launched a bizarre Twitter rant as French president Emmanuel Macron, German chancellor Olaf Scholz and Italian prime minister Mario Draghi, visited Ukraine today.
The close ally of Vladimir Putin said that "fans of frogs", "liverwurst" and "spaghetti" were in Kyiv.
He also mocked the idea of Ukraine becoming a member of the EU and predicted the meeting of European leaders "won't bring Ukraine closer to peace".
You can read the full story here:
Lamiat Sabin17 June 2022 03:00
1655427600
'Russia has not invaded Ukraine,' Lavrov insists in BBC interview
Russian foreign minister Sergei Lavrov has insisted that Russia has not invaded Ukraine.
He told the BBC: "We didn't invade Ukraine. We declared a special military operation because we had absolutely no other way of explaining to the West that dragging Ukraine into Nato was a criminal act."
Lavrov repeated the official Kremlin line that there were nazis in Ukraine, and that the Russian military is "de-Nazifying" the country.
Lamiat Sabin17 June 2022 02:00
1655424000
Ukraine on Independent's front page tomorrow
Lamiat Sabin17 June 2022 01:00