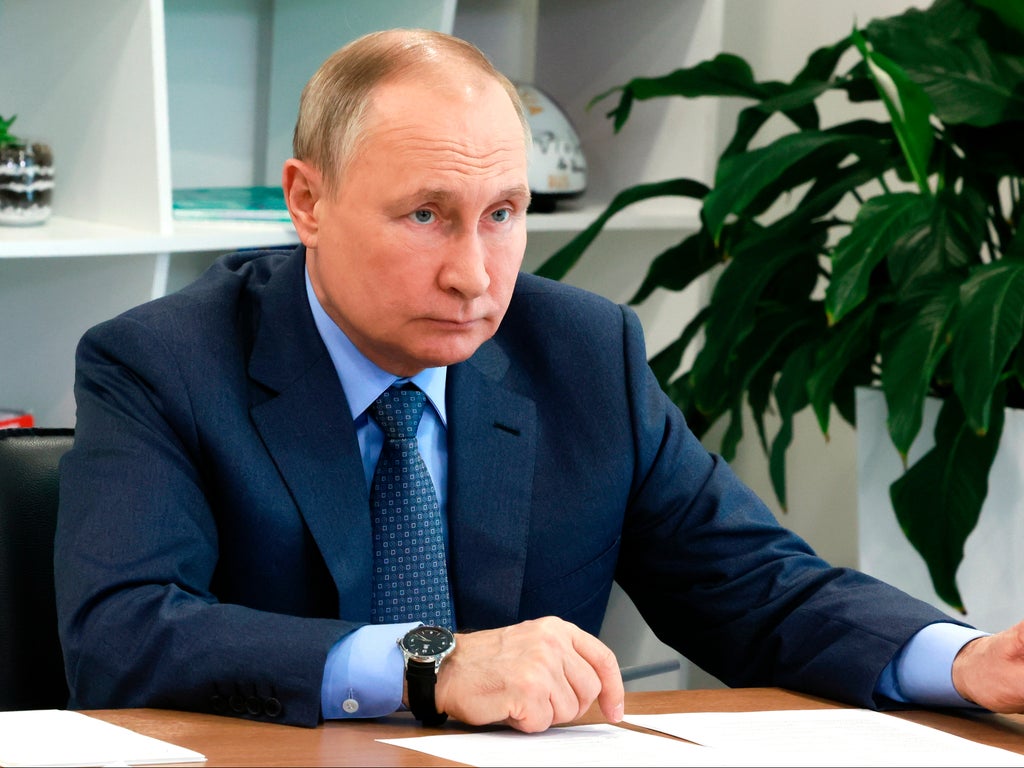 Wladimir Klitschko calls Bucha killings 'genocide of Ukrainian population'
Russia has suffered further losses during its offensive in the Donbas in eastern Ukraine.
It comes after Ukraine's airborne command released photos and footage of what it said was a damaged Russian pontoon bridge over the Siversky Donets River and several destroyed or damaged Russian military vehicles nearby.
Ukrainian news reports said troops thwarted an attempt by Russian forces to cross the river earlier this week, leaving dozens of tanks and other military vehicles damaged or abandoned. The command said its troops "drowned the Russian occupiers".
The UK's Ministry of Defence said that Russia lost "significant armoured manoeuvre elements" of at least one battalion tactical group as well as equipment used to deploy the makeshift floating bridge.
"Conducting river crossings in a contested environment is a highly risky maneuver and speaks to the pressure the Russian commanders are under to make progress in their operations in eastern Ukraine," the MoD said in its daily intelligence update.
1652499037
In case you missed it: UK sanctions Putin's alleged mistress
Britain has announced more Russian sanctions, with members of Vladimir Putin's inner circle – including his ex-wife, family members and alleged mistress Alina Kabaeva – hit in the latest tranche of measures designed to punish Moscow for its invasion of Ukraine.
Read the full story by Alastair Jamieson here:
Lamiat Sabin14 May 2022 04:30
1652498113
Zelensky warns of famine in 'dozens of countries' due to war
Seeking an end to delays in further sanctioning Russia, Volodymyr Zelensky said that the war is set to trigger a massive food crisis and the consequences due to that will be difficult to manage.
"The world has already recognized that Russia's blockade of our ports and this war are provoking a large-scale food crisis. Russian officials are also openly threatening the world that there will be famine in dozens of countries. And what could be the consequences of such a famine?" the Ukrainian president asked.
He added: "What political instability and migration flows will this lead to? How much will you have to spend then to overcome the consequences?"
"These are the questions that need to be answered by those who are delaying sanctions on Russia or trying to postpone aid to Ukraine," Mr Zelensky said.
Calling for "much more pressure" on Moscow, Mr Zelensky cited rising threats and losses suffered by Ukraine.
"Every day of war is an increase in global threats, it is a new opportunity for Russia to provoke instability in other parts of the world, not only here in Europe. And these are new lost lives in Ukraine: Ukrainian men and women who give their lives so that everyone can live freely," the Ukrainian leader said.
He added: "I emphasize this: everyone, especially in those countries where they still find time to argue instead of investing in aid as much as possible."
Arpan Rai14 May 2022 04:15
1652495437
'Turkey's standing in Nato unchanged despite Erdogan comments'
The US is working to clarify Turkish President Tayyip Erdogan's comments about Finland and Sweden but Ankara's standing in the NATO alliance had not changed because of them, the Pentagon said on Friday.
"Nothing changes about their standing in the NATO alliance… we're working to better clarify (their) position," Pentagon spokesman John Kirby told reporters.
Earlier on Friday, Mr Erdogan said it was not possible for Nato-member Turkey to support plans by Sweden and Finland to join the pact given that the Nordic countries were "home to many terrorist organisations."
Lamiat Sabin14 May 2022 03:30
1652491597
'Russia loses almost 27,000 soldiers and 200 aircraft' – Zelensky
Russia has lost nearly 27,000 troops and a total of 200 military aircraft in its war in Ukraine, Volodymyr Zelensky said.
In his nightly video address, the Ukrainian president said: "Today we can report on the 200th downed Russian military aircraft. Russia has not lost so many aircraft in any war in decades. And Russia has lost almost 27,000 soldiers, many of them young conscripts."
He also said: "Russia has lost over three thousand tanks, armoured combat vehicles, a large number of conventional military vehicles, helicopters, drones and all its prospects as a state."
Mr Zelensky called on "countries of the whole free world" to exert "much more pressure on Russia" to help stop the conflict.
Lamiat Sabin14 May 2022 02:26
1652488237
Russian soldier 'admits to shooting POW for asking to use toilet'
A Russian soldier has told his mother that he shot a Ukrainian prisoner of war in the back for requesting permission to use the toilet, according to Ukraine.
The Ukrainian Security Service said it intercepted the conversation between the man and his mother who was shocked to hear his confession.
The soldier was quoted as saying: "He really wanted to go to the toilet. He was told, 'You are going home now. Go, he says, go to the toilet, and you will go home'. That's it, he went – we shot him in the back."
The Ukrainian secret service said that his pro-Putin mother was so shocked that she tried to blame the incident on Ukrainians "shooting their own," to which he allegedly replied: "No, we shot him."
Lamiat Sabin14 May 2022 01:30
1652484637
Russian shelling 'kills one civilian in Donetsk'
One civilian was killed and twelve more people were injured in Ukraine's eastern Donetsk region as a result of Russian shelling.
Regional governor Pavlo Kyrylenko wrote on Telegram: "On May 13, the Russians killed one more civilian of Donbas – in (the city of) Avdiivka. 12 more people were injured today as a result of Russian shelling."
He said that Russian troops were indiscriminately firing at communities in Donetsk.
Lamiat Sabin14 May 2022 00:30
1652481157
Ukraine preparing 41 war crime cases against Russian troops
Ukraine is preparing 41 cases of alleged war crimes against Russian soldiers.
This is according to Ukrainian prosecutor general Iryna Venediktova.
She said during a live briefing on Ukrainian TV: "We have 41 suspects in cases with which we will be ready to go to court.
"All of them concern Article 438 of the [Ukrainian] criminal code on war crimes, but different types of war crimes. There is the bombing of civilian infrastructure, the killing of civilians, rape and looting."
It has not yet been revealed how many of the suspects would be tried in absentia.
Ukraine's first prosecution of a Russian soldier was in Kyiv during the early stages of Vladimir Putin's war in Ukraine.
The 21-year-old went on trial for the killing of an unarmed Ukrainian civilian.
Ms Venediktova said that two more of the suspects, who are in Ukraine, are likely to face preliminary hearings next week.
Lamiat Sabin13 May 2022 23:32
1652473833
Negotiations with Russia for Azovstal evacuation 'very difficult'
Ukrainian deputy PM Iryna Vereshchuk said negotiations with Russia on getting defenders out of the besieged Azovstal plant in Mariupol were "very difficult" but did not give details.
"The result may not be to everyone's liking, but our task is to evacuate our boys. All of them. Alive," she said in an online post. "God willing we will rescue them all."
Lamiat Sabin13 May 2022 21:30
1652469685
Watch: Russian soldiers captured on CCTV shooting at unarmed civilians
Russian soldiers captured on CCTV shooting at unarmed civilians
Aisha Rimi13 May 2022 20:21
1652468047
UK sanctions Putin's 'shady' friends and family including alleged mistress
Britain has announced more Russian sanctions, with President Vladimir Putin's ex-wife, family members and inner circle hit in the latest tranche of measures designed to punish Moscow for its invasion of Ukraine.
Aisha Rimi13 May 2022 19:54