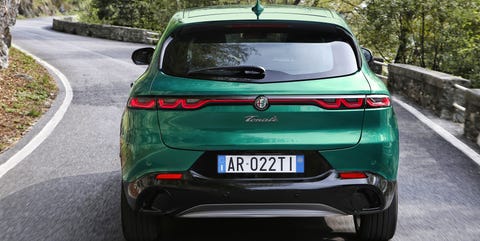 Alfa Romeo
The Alfa Romeo Tonale is a compact-luxury SUV positioned beneath the existing Stelvio that is set to reach the U.S. next year.
Read the full review
1 of 28
The Tonale was first shown in concept form at the 2019 Geneva auto show. Alfa blames the long delay on COVID and the semiconductor shortage, but also its determination to deliver solid build quality.
2 of 28
The Tonale sits on Stellantis' Small Wide LWB platform, which also underpins the Jeep Compass, although the Alfa gets an independent rear suspension.
3 of 28
The Tonale's handsome design does a good job of disguising its compact dimensions. The overall length of 178.3 inches makes it only slightly longer than the Audi Q3 and BMW X1.
4 of 28
Alfa has given the Tonale a much higher-quality interior than the Stelvio or Giulia, with plusher materials and a high-resolution 10.3-inch touchscreen with wireless Apple CarPlay and Android Auto.
5 of 28
We drove a European-spec version fitted with a turbocharged 160-hp 1.5-liter four-cylinder hybrid driving the front wheels.
6 of 28
The European-spec hybrid we drove is no rocket ship—Alfa claims it takes 8.8 seconds to get from 0 to 62 mph.
7 of 28
The base U.S. powerplant will be a more potent 256-hp turbocharged 2.0-liter with 295 pound-feet of torque and all-wheel drive.
8 of 28
A plug-in-hybrid version also will be offered on U.S. models. The PHEV combines a 180-hp turbocharged 1.3-liter inline-four driving the front wheels and a 121-hp electric motor powering the rear axle, delivering a combined peak of 272 horsepower.
9 of 28
The Tonale will be offered in three trim levels: Sprint, Ti, and Veloce.
10 of 28
U.S. deliveries of the Tonale are set to begin in the first quarter of 2023.
11 of 28
2023 Alfa Romeo Tonale (Euro-spec)
12 of 28
2023 Alfa Romeo Tonale (Euro-spec)
13 of 28
2023 Alfa Romeo Tonale (Euro-spec)
14 of 28
2023 Alfa Romeo Tonale (Euro-spec)
15 of 28
2023 Alfa Romeo Tonale (Euro-spec)
16 of 28
2023 Alfa Romeo Tonale (Euro-spec)
17 of 28
2023 Alfa Romeo Tonale (Euro-spec)
18 of 28
2023 Alfa Romeo Tonale (Euro-spec)
19 of 28
2023 Alfa Romeo Tonale (Euro-spec)
20 of 28
2023 Alfa Romeo Tonale (Euro-spec)
21 of 28
2023 Alfa Romeo Tonale (Euro-spec)
22 of 28
2023 Alfa Romeo Tonale (Euro-spec)
Advertisement – Continue Reading Below
This content is created and maintained by a third party, and imported onto this page to help users provide their email addresses. You may be able to find more information about this and similar content at piano.io